>Compact 75% layout.
>Gasket & Silicone Padded Structure Design.
>Multi-function customizable OLED display.
>Three-mode Connectivity featuring FANTECH StrikeSpeed High-Speed Wireless connectivity, Bluetooth, and Wired connectivity.
>No-Delay, Lag-free Wireless connectivity.
>Multi-device connectivity.
>South-Facing RGB Backlight.
>Supports Musical Rhythmic Effects.
>Dual-Stabilizer Mounts.
>Full Customizability with Hot-Swappable Sockets.
>Rotary Encoder knob.
>High-Density FR4 Fibreglass Plate.
>Ergonomic Cherry Profile switches.
>Available with a Variety of Gateron Mechanical Switches.
>Anti-Ghosting Conflict-Free Typing.
>Frosted ABS Top-Cover.
>Compatible with Windows and MacOS Devices.
>Large 4000mAh Battery.
>Battery Life: Up to 70 hours with RGB Off, Up to 15 hours with RGB On.
>Fully compatible with FANTECH Desktop Software application.
FANTECH MAXFIT81 is a brand new high-performance 75% compact TKL mechanical keyboard with an 80Key+1 Rotary encoder key arrangement. The keyboard boasts striking looks with its frosted chassis and rich, dynamic RGB backlight. It supports multi-device connectivity with support for up to 5 devices connectivity at once using its advanced three-mode connectivity. FANTECH MAXFIT81 supports high-speed StrikeSpeed Wireless connectivity that ensures smooth, lag-free, stable wireless connectivity with no chances of connection breakage. You also get multi-device Wireless Bluetooth connectivity and wired USB connectivity. The keyboard adopts a high-quality gasket-mounted structure design with a solid FR4 Fiberglass keyboard plate delivering comfortable typing feedback every time you use it!!
Multi-Function Customizable OLED Display Screen:-
FANTECH MAXFIT81 mechanical keyboard has got a multi-function customizable OLED Display screen. This 1" display is completely customizable, you can apply different Gifs, PNGs, artworks, and other settings as well. By default, this screen will display different settings of the keyboard including date, time, battery level, etc.
Smooth-Typing with High-Density Gasket-Mounted Structure Design:-
In order to deliver a smooth typing experience with stable keypresses and comfortable feedback, MAXFIT81 adopts a gasket-mounted structure design with a high-density FR4 Fiberglass keyboard plate. The keyboard also houses multiple layers of sound and shock-absorbing foam that effectively improves the typing experience for the users. This foam padded layer reduces the hollow sounds and enhances the usability!!
South-Facing RGB Backlight:-
FANTECH has featured high-quality dynamic RGB backlighting on the MAXFIT81 keyboard. The keyboard features south-facing RGB PCB sockets, that allow for better illumination and provide a bright RGB experience. MAXFIT81 supports multiple pre-build lighting effects including musical rhythmic effects that enable the keyboard to groove to the beats of your favorite music.
Flexible Three-Mode Connectivity:-
FANTECH MAXFIT81 keyboard supports versatile three-mode connections. This includes wireless Bluetooth, Wireless StrikeSpeed, and wired USB Type-C connections. Wireless Bluetooth allows for connection with up to 5 devices simultaneously with quick switching between them. Wireless StrikeSpeed connectivity allows for ultra-fast, lag-free, stable wireless connectivity with the source device.
Customize Your Typing Experience With Hot-Swappable Sockets:-
FANTECH MAXFIT81 brings full customizability to the user. It has a full-key hot-swappable PCB socket design that allows the users to easily replace the switches whenever required. MAXFIT81 comes with a choice between high-quality Gateron G Pro Brown V2 and Yellow V2 high-performance mechanical switches. The package also includes a switch and keycap puller that allows for easy replacement of the switches and keycaps as well.
Comfortable Typing With Dual Stabilizer Mounts:-
MAXFIT81 supports easy mounting of stabilizer of your choice. The keyboard supports both plate-mounted as well as PCB-mounted stabilizers.
Premium Finish With Frosted Transparent Chassis:-
FANTECH MAXFIT81 has got an exquisite design finish with its frosted transparent chassis. The keyboard has a retro, premium finish with this elegant transparent case. It's available in White and Black color options.
Extended Battery Life With 4000mAh Large Battery:-
FANTECH MAXFIT81 mechanical keyboard houses a large 4000mAh lithium-ion rechargeable battery pack. It provides long battery life of up to 70 hours with the backlight off and up to 15 hours with the backlight turned on.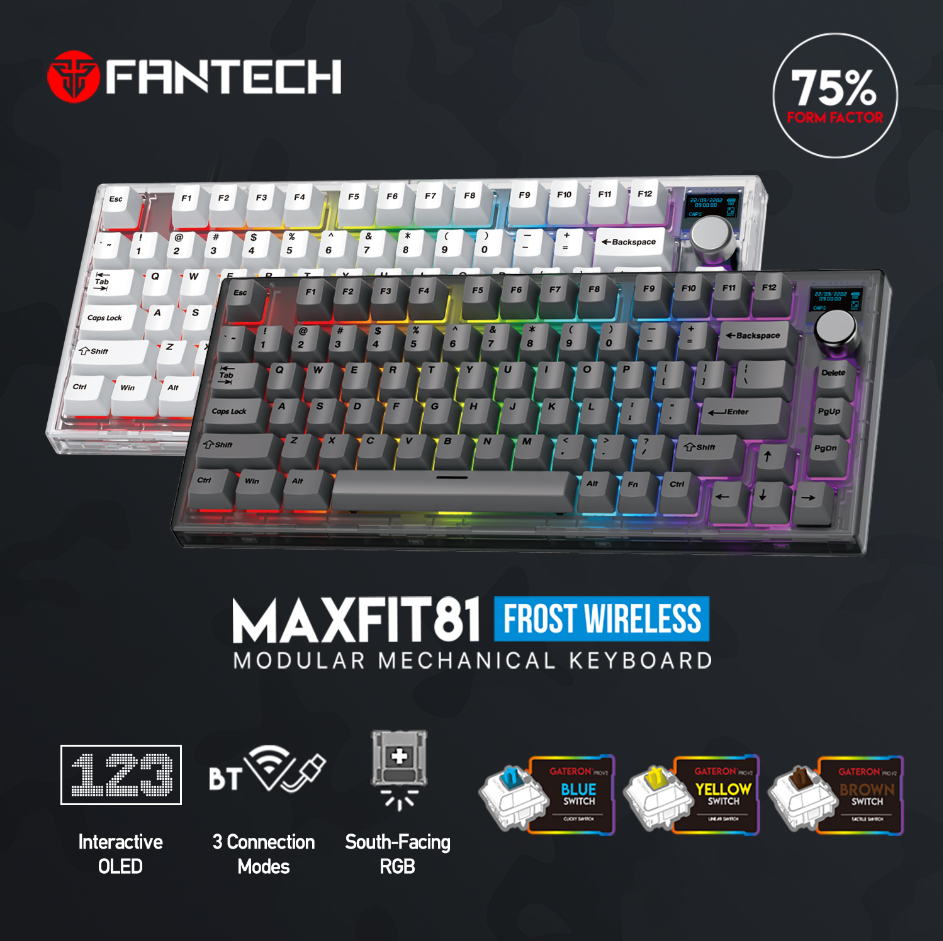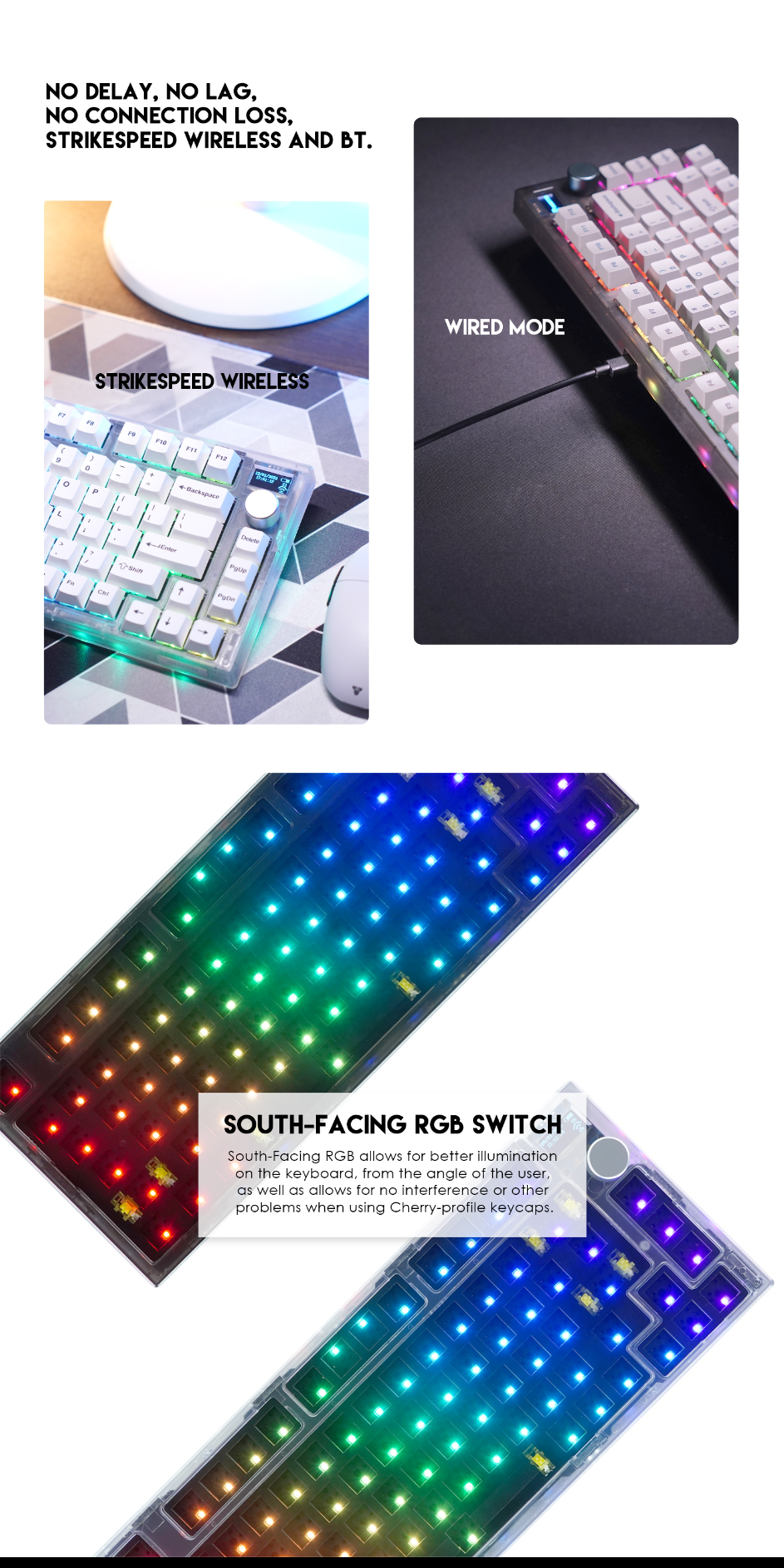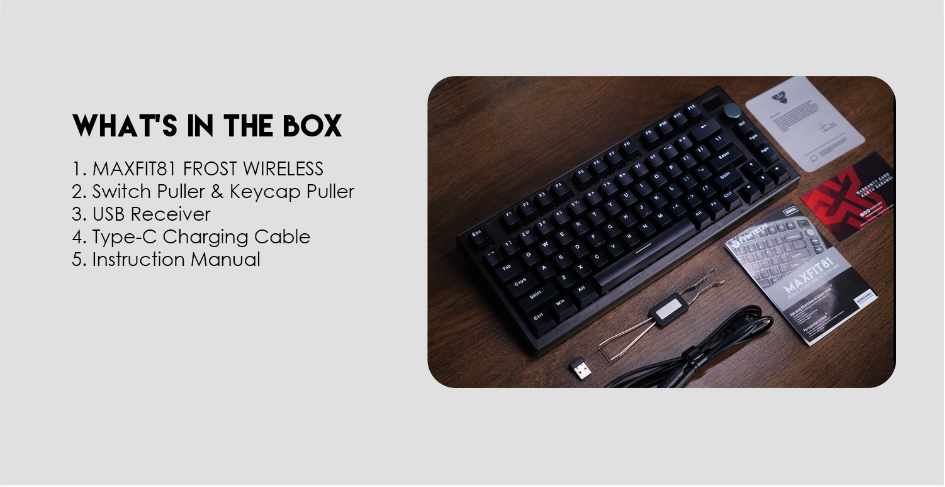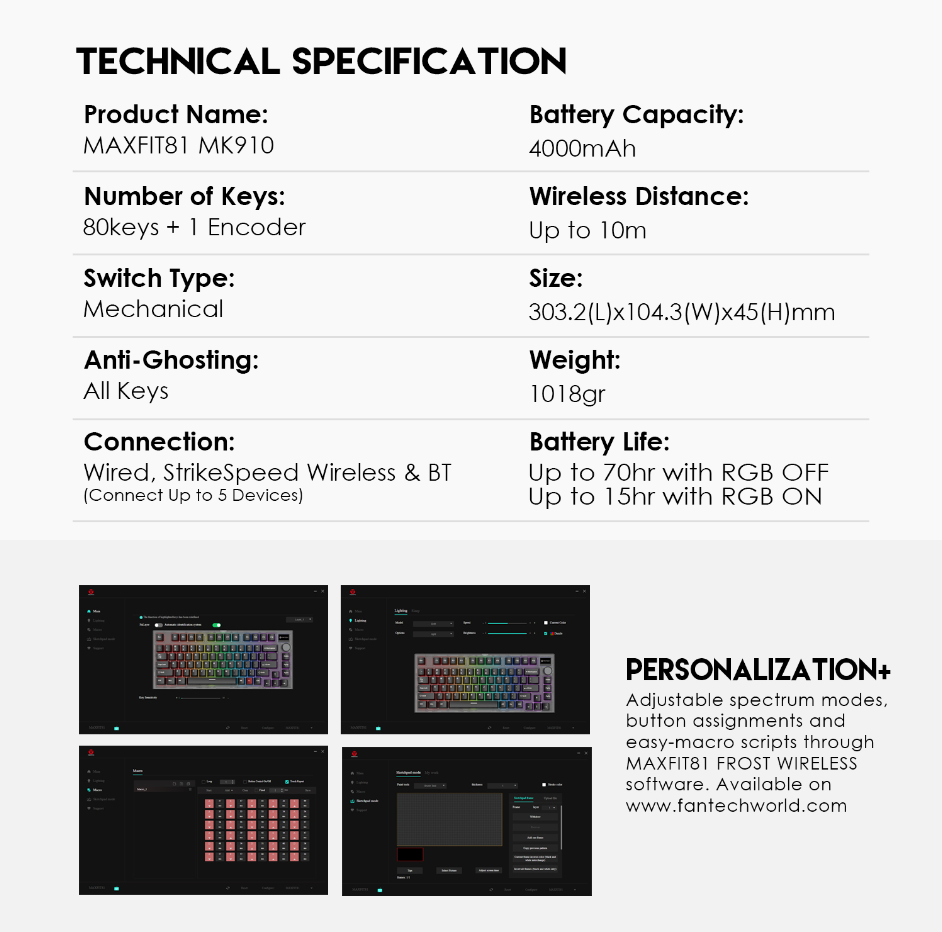 What is the price of FANTECH MAXFIT81 MK910 Tri-mode Mechanical Keyboard with Oled Display and Knob in Bangladesh?
The price of FANTECH MAXFIT81 MK910 Tri-mode Mechanical Keyboard with Oled Display and Knob is 7,500TK. You can buy this product from Gadget Nova showroom and website.